This latest devotion in 2021 is from Cari Roush, Women's Ministry Director.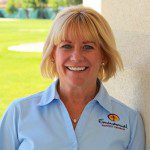 Cari and her husband Tom have been actively involved in various Emmanuel ministries for nearly 40 years. They met in the church youth group and have been married for 38 years. They have 4 children and 4 grandchildren.
Cari served as our Nursery and Preschool Director for 18 years while teaching at Shiloh Christian Academy for 5 years. She moved into Women's Ministry in 2015 and loves serving our women. She oversees Ladies Discipleship, Special Events, our annual Law Enforcement Appreciation, the Montana Fair Project, eMoms, and Mops.
She loves reading and spending time with her family.
If you prefer, you can download the entire 21-day devotion booklet here.
Introduction
Remember when you were a kid and you couldn't wait for school to let out for the summer? Those final weeks in May seemed to pass so-o-o slowly! Or perhaps you recall the excitement that built over the family vacation, summer at Grandma's, the school field trip? For me, it was the anticipation of Christmas morning. Nothing quite compared to the excitement this day brought. Not because my family was rich or the gift would be lavish. They were not. But the waiting, the gift shaking, and the guessing were all part of the anticipatory experience!  I simply couldn't wait! And at the Jones' house we frequently opened gifts early because none of us could wait!
As an adult I remember the excitement that built as I awaited my wedding day, my first home, and certainly the arrival of our kiddos! Hopeful anticipation is part and parcel of our lives.
Clearly our Lord has hard-wired us to live anticipatory. However, if we're being honest, there have certainly been times when the reality was quite a disappointment from the exciting anticipation stage. The expectation far exceeded the actual event. I suppose that is because we still live in a broken and sinful world.
However, when we begin to consider all the exciting things yet to come for the believer, the opposite will actually occur. The anticipation stage won't hold a candle to the reality itself! The Apostle Paul addressed this in his letter to the Corinthians:
"What no eye has seen, nor ear heard,

nor the heart of man imagined,

what God has prepared for those who love Him."

In the midst of an increasingly difficult time to stay encouraged and upbeat, I can hear our Lord saying,
"Set your minds on things that are above, not on things that are on the earth." (Colossians 3:2)
So, for the next 21 days, let's consider several of the various promises our God has already given us in His word. Exciting things we can definitely anticipate! In many ways, gifts waiting to be unwrapped. Let's get started…can't wait!