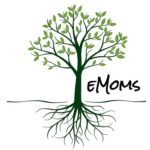 Emmanuel's eMoms is a group of moms with school-aged kids that meet twice a month for encouragement and support. eMoms meets 9:30am – 11:00am on the 1st and 3rd Tuesdays each month from September through April, with the exception of December. Childcare is provided for birth – 5th grade if requested at registration.
Registration is online and the earlier you register, the easier the check-in process!
There are two ways to register. You can do so using the link below or you can download the Church Center App to your mobile device. Search for Emmanuel and follow the prompts. You will then have easy access to your registration and check-in.